Chicken Town
by Lydia Jacobs on 07/28/12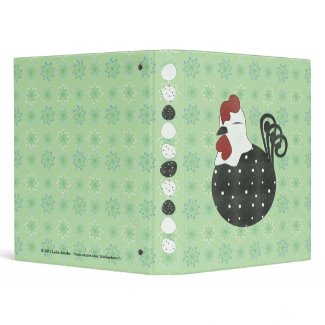 I thought it would be a good idea to create a new Zazzle store specifically for my chicken fixation, so I started
Chicken Town
, a shop that will serve as a home for my various chicken-themed designs.
Why do I have a chicken fixation, you may ask? My dad and I have a flock of 28 chickens, mostly laying hens with three "surprise roosters"--chickens we bought as chicks expecting them to be girls, that turned out to be boys instead. Our first batch of chickens we purchased last year was unexceptional. They were mostly dumb, shy birds that didn't want much to do with me, and our surprise rooster from that batch turned out to be a mean bird that attacks me whenever he thinks he can get away with it. It wasn't until we expanded our flock this year that my chicken fixation set in.
Among our new birds, we got 6
polish crested--comical birds with outrageous "hair" dos, each one with its own unique personality and habits. Within a few weeks of
acquiring Chicky Gaga, Aretha Chicken, Buck Buck Bjork, and the others, I had full-blown chicken fever, and I was driving my friends and relatives crazy with my photos, stories, and other chicken-related habits. I couldn't help it! I'd never understood why people would keep chickens as pets before, and now I do! Among our 19 new chickens, we have more personality and affection than I ever thought was possible for poultry. There
was Chipmunk, the Ameraucana, who from day one wanted to be held, and even as a puffy, downy chick, was challenging the older hens and winning. There was Buttercup, who ended up being Elvis when he turned out to be a boy, a silver-laced polished crested who is timid, but once you have a hold of him, will fall asleep in your arms.

There's Mars and Winnie, who as chicks were frightened of me, but now follow me around the yard more than my dog does. And then, there's Chicky Gaga. Chicky Gaga. Enough said.
With all the complex social interactions, behaviors, personalities, habits, and intellects of my chicken flock, it's no wonder I became obsessed. There's also the mysterious quality chickens have to make you feel totally relaxed. Just watching a flock of chickens chilling in the green grass, pecking around for bugs and dandelion greens takes me from anxious to tranquil in a matter of moments. It also gives me a sense of pride to know that these timid, fragile little creatures trust me--for the most part--with their lives. With the exception of a few inexplicable cowards like Cream Puff and Chick Pea, I can catch, pick up, and carry most of our chickens with minimal effort. When you think about the massive amount of trust a chicken must have to let me, a potential predator, handle it, that's a pretty incredible feeling.
There's just no way to easily sum up the crazy variety and diversity chickens come in, either. The feathery "fros" of Polish Crested, the cheek puffs on an Ameraucana, or the Ameraucana's distinct, blue eggs... The dark-chocolate brown eggs of a Black Copper Marans, or a Silkie's "furry" feathers... They come in a rainbow of colors, lay a diversity of eggs, range in size from tiny bantams to massive Jersey Giants, and have personalities ranging from very aggressive to ultra-tame. Prior to our current flock of birds, I had had no idea what an amazing world of chickens there were...
And that is why I have a chicken fixation.